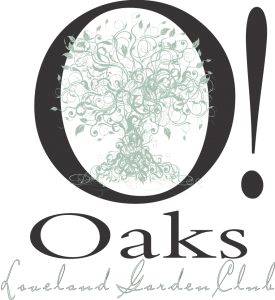 O!OAKS is Loveland Garden Club's project for the GCA Centennial initiative Plant a Tree: Grow a Legacy. The Oaks committee has a 5 year commitment to increase the number and variety of Quercus(Oak) trees in our area.
The multipronged approach includes:
educating the public about the value of Oak trees,
providing more Oak varieties in public locations,
encouraging the local growers to propagate a wider selection of Oaks
ask retail facilities and landscapers to consider promoting a diverse palette of Quercus choices.
This will culminate at the May 2013 Zone Meeting.
For questions, or to get involved contact ahosford2@gmail.com
For additional resources visit the following sites:
ReTree Nebraska-If you plant a tree, have your tree counted at ReTree. They have information on tree selection, planting and care.
Natures Companion-This newsprint publication is also available via email subscription. There is a wealth of information about horticulture matters in the Great Plains. A great resource for gardening and planting in the area.
Nebraska Statewide Arboretum-NSA provides plant and landscape information, promotes rare trees and plants and underutilized native plants and inspires gardeners all across the Great Plains.
On Arbor Day the Loveland Garden Club participated in planting trees at Fontenelle Park. The club donated two oak trees. Below is a slideshow of photos from the day.