New homes further diversify Little Italy neighborhood south of downtown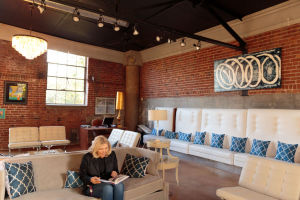 Posted: Monday, November 3, 2014 12:30 am
The sky-scraping smokestack protruding from her yard is the first clue this is not your average residential property.
A peek deeper inside Jill Benz's gated home on the outskirts of downtown Omaha reveals a landscaped sanctuary of sorts. A waterfall gurgles; a canopy of trees shades a patio.
Yet trains rumble by, and from her urban rooftop deck Benz can almost touch the flurry of construction projects revving up this aging Little Italy neighborhood.
The property at 822 Pacific St. stands out for another reason: It's part of a ripple of single-family homes being built or remodeled in one of the city's oldest neighborhoods.
The latest homeownership layer, following a recent burst of commercial projects in the area, further diversifies a mix that includes old houses, new and renovated apartments and villas, condos and an emerging arts district.
"It's kind of exciting," said Jed Moulton, the city's urban design manager. "It shows that trend of the urban preference, being closer to the city."
To be sure, Little Italy has long been a residential haven, historically the hilly enclave where Italian immigrants settled. But the area continues to evolve with such projects as the soon-to-be new Blue Barn Theatre and Boxcar 10 condo and restaurant structure under construction at 10th and Pacific Streets.
Also clustered around that intersection are major rehabilitation efforts such as the conversion of the former Burlington Station into the KETV headquarters, and a proposed year-round marketplace that would occupy the 107-year-old Postal Annex Building.
Farther south on the 10th Street corridor are the CO2 Apartments and coffee shop, built recently by philanthropist Nancy Mammel. Its sleek and glassy look also contrasts with its turn-of-the-century neighbors.
Creative homeowners like Benz are investing, too.
Benz, a retired interior designer who moved back from the East Coast two years ago, paid about $400,000 for the four-story structure built over an old one-level railroad boiler station.
Originally, Benz planned to lease the property as an event center. The yard had been extensively landscaped by the previous owner, the late John Walz, a retired locomotive engineer who built his multilevel art studio atop the mechanical plant that had been slated for demolition.
But Benz decided she wanted the place to herself, and began turning it into a personal residence, adding a geothermal heating and air-conditioning system, tearing out walls and planting her own garden.
"Everybody calls it an oasis," she said. Essentially "it's in a downtown parking lot, but when you're here you don't know that."
Nearby, just south of a future urban park to be built behind the Blue Barn, local restaurateur Charlie Yin is erecting a contemporary, multigarage home by older houses a fraction of the value.
Yin and his wife, Jennifer, wanted to remain near downtown but settle in a bigger place to raise a family. They appreciate the area's character and history, said Yin.
"It's reminiscent of an old neighborhood with a true neighborhood identity," he said.
Last year, the couple had plans to build a half-million-dollar house on a longtime vacant lot in Omaha's historic North Gold Coast area. They changed course after some neighbors bristled and complained to the city's landmarks commission that the proposed Mid-Century Modern style didn't fit in on the traditional mansion row.
A few blocks away, near Seventh and William Streets, Scott and Lisa Orsi also are building their new home amid traditional Craftsman-style houses.
Theirs is a motivation to return to the area where both grew up. Currently the family lives in a waterfront home in Carter Lake. Their children, 11-year-old Vince and 10-year-old Alia, also are drawn to the streets where Italian grandparents and friends still live.
"They feel a sense of home like we did growing up," said Lisa, who was raised across the street from her future husband, and just doors from where the pair now are building.
Surprising was that they were able to secure a prime lot on a hill that looks toward the riverfront. An old family friend owned the vacant land — and had turned down numerous offers — but agreed when he learned who was looking, and why.
"He said, 'Well if Scott Orsi wants to build a house there, I'll let him,' " said Lisa.
Appraised for loan purposes at about $330,000, the home includes features such as a big front porch and lower-level garages, intended to fit in with the existing neighborhood.
While the Orsis welcome the mounting investment in the area, they consider that a bonus — not a reason to build there.
"For us, it's more coming back full circle, going home to where we feel comfortable," Lisa said.
Moulton, who has watched the re-energizing of the downtown apartment market, said new single-family housing was a natural next step. A key challenge for most, he said, is securing bank loans that are based on comparable sales in the area.
This spring, Moulton said, city planners will launch an effort aimed at reducing barriers and facilitating infill redevelopment around historic main streets.
Meanwhile, developers are eyeing other properties around and along the 10th Street corridor. And individuals such as Matt Christensen and Joe Merten continue to do their part to enhance Little Italy, piece by piece.
Christensen is buying and rehabilitating two rundown houses, each more than a century old, on Eighth and Pierce Streets.
"Close to downtown, it's a good investment," said Christensen, who hopes to rent one and live in the other.
Merten has owned two rental properties on Sixth Street for more than a decade. Nudged by the reinvigorated downtown, he extensively remodeled them and now rents to professionals who work in or near downtown.
Architect Jeff Day, who worked on the Boxcar 10 and Blue Barn design, said he and others involved in the arts campus had hoped it would spur more development, and they're pleased with the newcomers.
"It's come together the way we'd hoped," Day said. "We're seeing a multipurpose neighborhood, diverse, alive, and interesting architecture."
Contact the writer: 402-444-1224, cindy.gonzalez@owh.com
Copyright ©2014 Omaha World-Herald. All rights reserved. This material may not be published, broadcast, rewritten, displayed or redistributed for any purpose without permission from the Omaha World-Herald. To purchase rights to republish this article, please contact The World-Herald Store.